Hello Bloggers are you still out there?
It has been a year since I have been on and blogged. And a crazy year at that, not one that I would have chosen but it is what it is.
There are lots of new fabrics on the store site, I talked my husband in to taking over the store site so that I could focus on other stuff and the truth be known I wasn't keeping up with it like I should (back to that crazy year).
Barb at Bejeweled quilts
and I have done a few projects together early this year before Covid 19 we did one and used the quick curved ruler from Sew Kind of Wonderful and a pattern out of 'One Wonderful Curve 12 Contemporary Quilts' using Asian fabrics from my store.
This is the new ruler, mine doesn't have all the fancy markings but it is really a fun ruler to use.
Barb and I used the same fabric and pattern but we laid our quilts our differently. This is Barb's she did it like the pattern. It looks like geese flying toward each other. So cute, I love it. It may just take off and fly away. LOL
This is mine and I decided to try a different layout not sure if I really like it. Looks like bats to me. Included is a picture of the fabric that we used and you can find them at
InchwormFabrics
. The fabrics are so pretty with gold metallic designs in a lot of them. There are purple, teals, red, cream and blacks some with cranes and Asian letters, others, with little blossoms and large blossoms, so calming and enchanting. I just love them.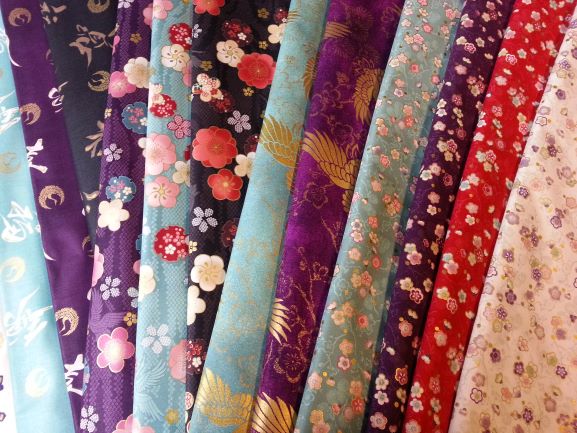 Thanks for stopping by.